You celebrated with us as we launched Purple Door Coffee in 2013. It's time once again to get excited for our newest partnership and next life-changing venture!
For several years now, Dry Bones has been casting a vision around the needs of "Rehab, Housing, and Employment." These have been three major missing opportunities in Denver for Dry Bones' specific population of youth and young adults. Dry Bones desires to be a part of the solution by innovating new opportunities in these areas. Purple Door Coffee was born from this vision.

We have now spent the last few years strengthening partnerships with local housing providers and rehab specialists. (Read about Dry Bones' intentionality in partnership over ownership here.)
Providence Network quickly captured the vision of youth/young adult housing, and a beautiful new partnership began! (PN is a 27 year old local Denver ministry that specializes in transformational housing.) 
As Dry Bones and Providence Network continued to dream and plan and pray, we began actively looking for this "future home."
In March, Providence Network placed a contract on an incredible property that we believe will soon become the home we have been dreaming of. If all goes as planned (zoning updates, renovation estimates, final negotiations, etc), the property purchase will be completed on Sept 24, 2015. There are still many months to go before the home will be ready for residents, but the excitement is growing daily!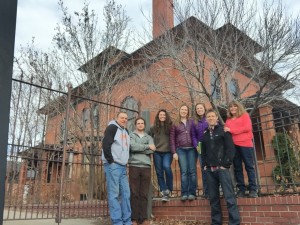 Please pray and hope alongside us that this property will fit all of our needs, pass through city approvals and zoning requirements, become completely funded, and ultimately change many many lives!
Providence Network and Dry Bones are seeking partners who will help to make this dream a reality. We're off to a great start, but still need others to join the campaign. If you are or know of others looking to make a sizable gift this year and would like to participate in this campaign, please contact Matt. 
---
More Details:
Letter from Derek Kuykendall, PN Executive Director:
For 27 years Providence Network (PN) has been serving Denver's homeless through transitional and affordable housing. Hundreds of individuals and families have overcome addictions, domestic violence and poverty while living in one of PN's homes. We believe PN has a unique and successful model with staff living in community alongside residents. A true sense of family is created in PN homes where accountability, paired with grace, leads residents on a path toward self-sufficiency.
Based on our success and a desire to meet a growing need in our city, over the next two years Providence Network will be expanding and partnering with Dry Bones to include a home dedicated to homeless young adults, many of whom have failed or aged out of the state foster care system. Most of these kids started life with two strikes against them and have very few positives in their lives on which to anchor hope. They have a deep seeded need for family. On the streets they seek protection, comfort, and belonging from clusters of other "street kids". Theirs is a culture of survival-at-any-cost. This very real need for family is why we believe Providence Network's approach of living in community together will have special impact. We want to change the trajectory of a young person's life from hopelessness and destruction to a bright future with ongoing support.
Our vision is to create a beautiful, welcoming home for these young adults. A place that will be around for generations to come. A place they will always be welcomed to come back to for holidays. A place that will always feel like home. We believe we have found this home. It was built in 1893, is over 5,000 SQ FT and includes a separate carriage house. We believe with a little rehab and construction we can make this beautiful historic Denver house a warm home.
---
Further FAQ:
Who is this home for?
Young adults, 18+. Homeless, struggling with substance abuse, mental and physical health problems, unemployed. It's being designed for friends of Dry Bones!
How many people will live in the home?
10-14 program residents at a time plus additional 3-5 staff members living on site in the house.
What will the program look like?
The transitional housing program is being designed for this specific and unique population. Generally speaking, it will be based on Providence Network's "live-in community" model. The staff live in the house (separate rooms) along with the residents. They share a common kitchen, bathrooms, and common areas. They eat meals together. The live-in staff act as mentors to residents and include pastoral guidance towards self-sufficiency using a goal plan.
 Residents will receive 1:1 and group counseling in house. They will participate in addictions recovery groups within the community. They will follow an employment, education (or combination of both) plan that will fill at least 30 hours per week of "productive" time. Residents will participate in daily/weekly chores around the house. They will pay a small amount monthly as a "program fee" to cover a portion of the services they receive including housing. Residents will participate in the program for 12 to 24 months. Successful completion of the program (achieved self-sufficiency goals) will allow residents to move-into permanent affordable housing.
What happens when someone graduates the 12-24 month program?
Providence Network provides two levels of housing. FirstStep (described above)  and NextStep housing which is independent apartment living. A NextStep apartment is affordable (rents set at 35-40% AMI), is drug and alcohol free, and includes supportive services. PN currently owns and operates two apartment buildings in the Five Points neighborhood totaling 42 units. The organization hopes to add a third apartment property within the next two years to meet growing demand and to accompany this new youth house.
Who will "own" the house? 
Providence Network will own the home, oversee staff, and manage the program – doing what they do best!
What role does Dry Bones play in this home? Where will the residents come from?
Dry Bones will supply residents for the home. DB staff and volunteers will carry the Dry Bones community and family directly into the home with supportive care, ongoing one-on-one pastoral support, and much more. The home is intended to be a strong and life-long partnership in ministry between Providence Network and Dry Bones – with roles, expectations, services, and gifts clearly defined. Providence's specialty is housing and rehabilitation. Dry Bones specialty is street-level, front-lines relationship building. Both organizations strongly share the value of lifelong family relationships, community, and spiritual growth.
When will the home be up and running?
Our goal is that the home will be renovated and opened to residents by Thanksgiving of 2017.
Can I drive by and see the house?
Yes. Please do drive by! (No trespassing, of course.)
357 Broadway
When will PN "close" on the purchase of the house? 
The house was purchased on September 25, 2015.
What about zoning permits for a transition home? 
In September, the city of Denver unanimously issued the proper permits for the property to operate as a small group home for 14 residents.
Will this home increase the budgetary needs of Dry Bones? 
At this point in time, this new venture will not increase the budget of Dry Bones as the home will be owned by Providence Network. PN is courageously and faithfully taking on additional risk and budget increases. Dry Bones is certainly working to help raise the funds needed for the house purchase above and beyond 2015 budget needs.  Dry Bones longs NEEDS to see this project birth and prosper!
We can hardly begin to imagine the number of lives that will be forever changed in the years to come.