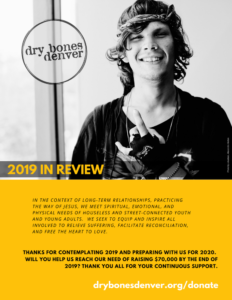 Click Here to Donate Now
It's been another incredible year of life at Dry Bones. Youth and young adults from across the nation experiencing houselessness continue to seek refuge, encouragement, belonging, dignity, new life, a sense of family and more in the Dry Bones community. This all exists, thanks to your faithful support.
The word "community"often gets used to describe Dry Bones as people from so many walks of life gather together.
Some are seeking their very survival in the city, running from abuse, and often wandering through life alone. They come from across the country with some extremely practical needs. And they come with wisdom, strength, kindness, warmth, great talent, and eagerness to connect.
Others in this community are housed – working long hours, raising families, seeking to live out a genuine faith as they wander their way into this thing called Dry Bones. They are often seeking deeper meaning and purpose in life. They may come with homemade food or art supplies, but they always come with hearts open to discover what might just happen if they keep showing up.
As unlikely as it might be for all these lives to intersect, it's here that the community is born and beauty and life flourishes.  Changes that can't easily be explained begin to take place. 
I hope that you've been able to experience the Dry Bones community in some way – no matter where you live.
From celebration and victory to heartbreak and sorrow, 2019 has once again been a very full year.
I invite you to check out some of the stats and stories from this year below. Feel free to join in the emotion of it all. Be sure to watch these videos if you have a minute. The heart of what Dry Bones is all about can be seen in these videos from Thomas and Kristie.
As 2020 arrives, there are some big plans shaping up that you will soon hear about!  It's going to be an important year for Dry Bones as all hopes and goals remain focused on increasing impact among this unique population of youth and young adults experiencing houselessness. Lives are being changed!
May I boldly and humbly ask that you consider Dry Bones in your 2019-20 giving plans?
Your help is needed today as Dry Bones seeks to raise an additiona

l $70,000 of support

by the end of December. Your support is crucial and so appreciated. Every dollar truly matters. Are you able to establish a monthly pledge for 2020 or make a one-time gift today by sending a check or donating online as we wrap up this year? 
You nourish and support Dry Bones through generosity in extraordinary ways.  Lives are truly changing, and there is so much for which to be grateful.  Thank you for being a part of the community of Dry Bones. 
On behalf of this community,
Matt Wallace and the Staff and Board of Directors of Dry Bones
Click Here to Donate Now
REST IN PEACE, OUR DEAR FRIENDS
This slideshow requires JavaScript.