Click a question to view the answer:
---
Where did you get the name Dry Bones?
The name comes from Ezekiel 37 in the Old Testament of the Bible. We believe that God can bring all things to life! Read Ezekiel 37 here.
We were inspired to read the story in Ezekiel 37 after seeing Gustave Dore's 1865 depiction of Ezekiel 37.   Check it out full-size here.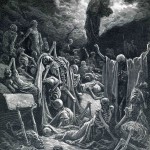 Back to questions
---
How can I donate to Dry Bones?
Please visit the Donate page for the details.
Back to questions
---
How old are the "street kids"?
Our friends without homes are typically between the ages of 12 and up into their mid-twenties. The youngest person that we have seen living on the streets over the past few years (besides infants belonging to the youth) was 10. The average age is 18 to 20. Read More…
Back to questions
---
Where do the youth that live on the streets of Denver come from?
The street kids of Denver come from all across the United States and even the world. Just a few examples of the variety of "hometowns" that the youth claim are: Borger, Texas; New York City; Europe; San Diego, CA; Elizabeth, CO; Seattle, WA; Ft. Worth, TX; Lakewood, CO; and many many more.
Many of the young people are from the Colorado area, but many others end up "stuck" in Denver while traveling across the country. Our friends often stow away in trains, ride Greyhound buses, or hitch hike.
Denver also has a reputation amongst the street youth of the nation. Many come to Denver seeking the population of youth that live on the streets that they have heard about in another city.
Back to questions
---
Why Denver?
Many reasons.
Denver is the gateway to the west. It is the largest city in the Colorado and western-central U.S. area. Travelers get "stuck" in the Mile High City.
Our friends often find a community of young people in a similar situation as themselves and decide to stick around.
For those who might be addicted, drugs are readily available in Denver.
Denver has a nice climate with over 300 days of sunshine. Winters can be brutal, but many winter days are sunny, warm feeling, and pleasant.
Back to questions
---
Where do your friends sleep at night?
The young people sleep wherever shelter is available or found.
Many of our friends sleep under bridges, in storm drains, in parking garages, in abandoned buildings or houses, in trees and bushes, in tents, and in stairwells.
On the coldest of nights, our friends will often "spange" (ask for spare change) up enough money to buy a cheap motel room for the night for a small or even large group.
Other street kids will sleep on the couch of a friend when they can so that they can shower and sleep well for a night or two. This is called "Couch Surfing".
Some kids will venture over to Urban Peak, a shelter for youth between the ages of 14 and 21.
Even though "camping" has been illegal in the city of Denver since May of 2012, there are simply not enough beds for those who might seek shelter to sleep at night.  Other young people will not seek the service of shelters because of trust issues and/or psychological barriers.  Therefore, camping is a necessary risk that our friends will take.
Read our blog entry regarding the camping ban HERE.
Back to questions
---
How can I get involved?
Please visit the Get Involved page of this website.
Volunteering with Dry Bones is a privilege and a commitment that we take very seriously. If you would like to volunteer with Dry Bones, you must attend a Dry Bones 101 orientation. You must also complete an application, background check, and provide references (all explained at Dry Bones 101).
We do have needs from time to time such as cleaning, organizing donated items, administrative work, and so forth that do not require Dry Bones 101. Learn more HERE.
Back to questions
---
What is "Spange"?
"Spange" is a noun and a verb. It is a combination of the words spare and change. Youth living on the streets often spange for spange.
When our friends on the streets ask us how Dry Bones can afford to pay for all the activities and services that we provide, we say, "Well, we kind of spange too." So, please donate here!
Back to questions
---
Do you accept clothing donations?
We do not regularly accept clothing donations. The street youth are like most young people and are picky about what they will wear. Black clothing is especially useful to us. If you would like to donate clothing, please contact us regarding our current needs.
Also, please visit the Donation Drive page of this website for regularly needed items.
Back to questions
---
Does Dry Bones have a building downtown?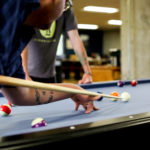 Dry Bones rents a large office space in Urban Land Conservancy's Mountainview Nonprofit Tower (1600 N Downing St).  This home-like loft setting is used host our community.  We host life skills classes, provide professional counseling, host meals and Bible studies, weekly open house gatherings, and much more. We are also able to provide showers and laundry at this location.  Our open hours vary seasonally.
Bowling alleys, hiking and camping trips, coffee shops, movie theaters, skate parks, Rockies and Nuggets games, Woody's Pizza, and trips to the Denver Zoo are also favorite locations of the Dry Bones community.
It is extremely important that the staff have the availability and freedom to spend time walking and sitting on the streets of downtown, visiting friends in jails and hospitals, and taking folks to appointments as we strive to meet the kids where they are and build relationships on the streets. God continues to bless Dry Bones with places to feed, meet, and build relationships.
The Purple Door Roaster is located in a warehouse district near the light rail in Englewood. This is where our job-training program takes place.
Back to questions
---
Did we miss your question? If so, please contact us!