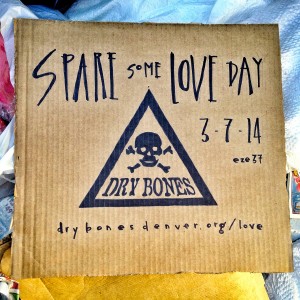 Thanks for participating in Dry Bones' "Spare Some Love" Day, March 7, 2014! Our friends on the streets often "Spange" for their daily needs (combine "spare" and "change"). The question, "Can you spare some change?" is loaded with physical and emotional realities: fear, worry, hope, boldness, hunger, humility, and much more. Today, on 3/7, we hope to do a little "spanging" of our own. We hope to raise up awareness, needed funds, and pool together a bunch of love for our incredible friends who live on the streets of Denver. (We hope that many of you who are currently living on the streets will be participating too!)
If you haven't yet, please like DB on Facebook. You can also sign up for our monthly e-newsletter here. We are excited to share stories, pictures, and remain connected.
Dry Bones is a ministry among homeless youth and young adults living on the streets of Denver that come from across the US. Please explore the website to learn more! Let me suggest pages such as About Us,  The Blog, and some of these great DB Videos.
Ways that you can help today:
1. SPARE YOUR PROFILE PIC.  Change your profile picture to THIS IMAGE! (Click here for the jpg, and then "right click" to save to your computer.) Help us spread awareness of Dry Bones. Invite your friends to "like" DB on Facebook. Tell the Dry Bones story with us. Share some of your favorite Dry Bones statuses throughout the day as we update ours each hour. 
2.  SPARE YOUR TIME. Get Involved. Learn how, HERE.
3.  SPARE SOME CHANGE. Donate. Dry Bones runs purely on the generosity of families, individuals, churches, and you. Thank you for believing in the mission and for helping Dry Bones to support young people struggling with homelessness, addiction, abuse, loneliness, and more.
As you can imagine, the needs go way beyond these few items that we've listed below. Please consider supporting one of the following needs and make a big difference today. Click any button and input your total gift on the following page.
PURCHASE SOMEONE'S ID OR BIRTH CERTIFICATE – Click to Give $10
PROFESSIONAL COUNSELING SESSION – $30
BUY A WARM SLEEPING BAG – $45
SUPPORT ONE WEEKLY COFFEE EVENT – $50
WEDNESDAY BIBLE STUDY AND LUNCH GATHERING – $100
"ALL OF 'US' TOGETHER" WEEKLY BOWLING EVENT – $200
IN PATIENT REHAB SCHOLARSHIP – $8000
Make a one-time Gift of any amount
4. SPARE SOME PRAYER. If you will agree to pray for Dry Bones and for one of our friends connected to the street-life on 3/7, tell us HERE and we'll send you a name and more details.