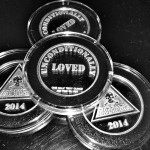 Here's the message that we included with each coin this year at our Christmas party:  
Here's what we want you to know!

1. You are LOVED UNCONDITIONALLY!

 2. This coin gift is made of .999 solid silver. IT HAS VALUE! As the years go on, this coin will likely only go up and up and up in value. (Silver prices go up and down daily. You can check the price of silver at any time by looking at silverprice.org. Fun to watch, but don't sell your coin just b/c the price drops one month. It will come back up.)

 3. In the future, you may decide that it's a good time to sell this coin to a gold buyer or jeweler. Imagine the possibilities of future choices:

· You decide to go to college and you need textbooks
· You have found the love of your life and want to purchase a wedding ring
· You choose to start a college fund for your newborn baby
· You pass this valuable coin on to your grandchild to treasure as a valuable heirloom

 4. Finally, know that the Dry Bones family sees incredible hope in your future. Please let this coin remind you of your own incredible worth and that you are loved. EVERYTIME YOU TOUCH IT IN YOUR POCKET OR HOLD IT IN YOUR HAND, KNOW THAT WE LOVE YOU!! More importantly, remember that you are loved and held by God – who gives us all worth and value in the first place.
________________________________________________
NOW SOLD OUT! 
For Christmas this year, we invite you to make a donation to Dry Bones in someone's honor and then share a silver coin with them to represent your gift!
(We can also do this with Dry Bones t-shirts and hoodies – contact us HERE for that.)
If you would like to donate to Dry Bones in honor of someone this year or if you would like to have your own Dry Bones 2014 coin, you can place your order by clicking on the button below. You may order as many as you would like, and we're also happy to help mail them to separate addresses if you request that.
For any donation over $30 (our cost = $20ea), we will mail a 2014 coin to you. Any gift beyond our costs will be put to good use and is very much needed and appreciated.
The coins are currently on order and will arrive to us in the next week or two (around November 15).
The photo above is last year's coin. This year's coin has the Dry Bones logo and 2014 on one side and a new message of love on the other. In order to keep the coin a surprise for our friends on the streets until our Dry Bones Christmas party, please contact us if you would like to see a photo of the new coin via email. Many of our friends keep these coins in their pockets all year long. It is our sincere hope that they will read the messages over and over as they are reminded of their "Unsurpassable Worth" and value. We hope you'll do the same!