We are so excited to welcome Tonya to the Dry Bones team for this summer! She has a busy, fun, and life-changing 10 weeks ahead of her. As with all of our interns, Tonya will be raising her own support for this summer. This support raised will cover the cost of living expenses and personal life needs.
Get to know Tonya from her introduction below and then please consider supporting her work!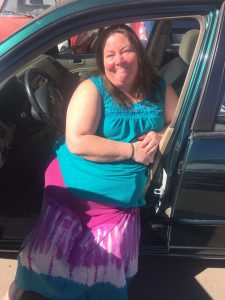 "Hey guys, it's me Tonya.
I have some really exciting news to share with you about my upcoming summer working as a Summer Intern at Dry Bones Denver. I met Dry Bones approximately 12 years ago. I was struggling with my life and my faith. I was living on the streets trying to find a reason to believe in God. I was an angry, confused young women who wanted desperately for people to love me, but did everything I could to keep them from doing so. It was easy for the most part, until I met Dry Bones. They never gave up on me. They stayed through the tough times and helped me in any way they could. With their help I was able to transform my life into what it is today.
Those of you that know me would be surprised at how far I have come. I am currently enrolled in college. I will be graduating next summer with my Associates in Sociology, then continuing on for my Bachelors degree. I am using that to obtain a CAC (certified addictions counseling) License. I am going to do that because I want to help those who can not afford to obtain this type of help. I know what it can feel like to feel hopeless, so I want to give some hope back. I am very excited to be done with my college classes for the summer and to have the opportunity to learn something new in a different environment.
I have been volunteering for Dry Bones every summer for about 10 years now. I have had the honor of leading youth groups that travel here to learn more about the ministry on what we call an "Urban Plunge." During this activity, I take the kids around downtown Denver and give them a crash course in what it is like to be a homeless youth. I am going to continue to facilitate this part of the program, however I will have other responsibilities as well. Plus it gives me the chance to spend more time with the kids that I love so much."