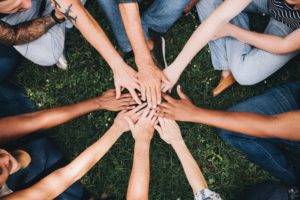 "Hey, will you give Emily a ride over to Stout Street on your way back to the office?" Mark asks. "Her boyfriend is over there."
"Yeah, sure thing. Hey, I'm Haley, nice to meet you," I say as I shake Emily's hand. She nods.
"My car's over here, just down the block," I point.
***
As I put my car in drive, Emily asks, "Hey, so do you mind taking my boyfriend to St. Luke's? He's really sick."
"Yeah sure," I respond. "Where is that? Do you know where to go?"
"Yeah, it's over on High Street."
***
"You can turn right here," Emily notes.