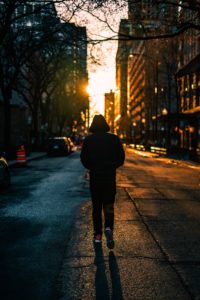 Thoughts by Mark Wilson
Send out your light and your truth, that they may lead me, and bring me to your holy hill and to your dwelling. Psalm 43:3 
Not long after I began volunteering with Dry Bones I was introduced to a long time friend with an uncanny ability to reveal the most apt street names.  I don't know if the staff member making the introduction recognized this to be a prophetic gifting, or merely imagined it to be an amusing party trick, but I was soon answering a string of seemingly random questions.  What the young man gleaned from my answers is a mystery, as is the way that he used them to stare into the center of my being.  After some time he rattled off in his rambling, unbalanced way my hidden name, Traveller, the Blind Robot.  I admit that I was slightly unnerved by the revelation of it, spoken aloud by a seeming stranger.  Little did I know, blind as I am, how quickly my journey would lead me more deeply to home in the Dry Bones community, a willing automaton in service of the Kingdom.
Since our Elevations vision trips came to an end in early August I have been able to focus more fully on Street Outreach, and have been excited by rediscovering the city in it's daily and weekly rhythms.  Last year, the concept of Chasing the Light, searching for the Divine in each moment, was introduced to Dry Bones' staff by Matt after he heard a song of the same title, and we began a conversation surrounding this theme that continues today.  Chasing the Light has become the newest entry in the Dry Bones Lexicon, and often refers to what we once called Street Outreach.
In my first days on Dry Bones' staff, as I was finding my way on the streets of Denver, I began to sense my path being made straight, my feet directed along the way, that I was not merely wandering through our city, but was being drawn to people and places.  The words of the Psalmist came to me in those days, "Blessed are those whose strength is in you, whose hearts are set on pilgrimage.  As they pass through the Valley of Baka, they make it a place of springs; the autumn rains also cover it with pools.  They go from strength to strength, till each appears before God in Zion."  I began to realize that we are on pilgrimage together, these streets our Valley of Baka, sometimes translated Valley of Mourning.  The Gospel calls us to be present in difficult situations and spaces, and at times it is our very presence that brings healing, that shines a light through cracks, illuminating broken places.  I am reminded by a Leonard Cohen quote that it's not up to me to fix anything, he said, "There is a crack in everything, that's how the light gets in."  It is enough for me to be present, fragile and vulnerable, and it is through my cracks that light shines.  For when I am weak, then I am strong.
Grant us, Lord, the lamp of charity which never fails, that it may burn in us and shed it's light on those around us, and that by it's brightness we may have a vision of that holy City, where dwells the true and never-failing Light, Jesus Christ our Lord. Amen. (from Book of Common Prayer)