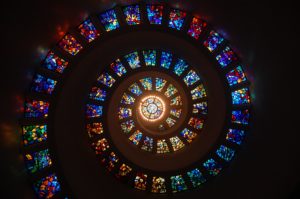 Warning: The following contains a slice of life, raw and unfiltered.  While you may find it less palatable than honey, it is no less sweet. Though editing or cleaning up language might make it easier to stomach, it serves to diminish the pain and lament that hungers for righteousness and justice.  The light shines in the darkness, and the darkness has not overcome it.
Come, Lord Jesus!
Civic Center Park buzzes with activity.  The hustle and bustle is not that associated with the season showcased in lights and displayed in front of the City and County building, it is the daily grind of addiction, a liturgy of despair.
Robbie and I are taking in the scene when he spots a longtime friend.  I read her story in the tattoos covering her arms and face.  She is obviously glad to see Robbie, a wide smile spreading light across her face.  I am stricken by her beauty as I look past the homemade gang tags etched in her brow.  Just beneath her hairline is the most true of the messages that adorn her face.  The single word, MISUNDERSTOOD, has been has been scrawled across her forehead with a primitively made tattoo machine, and its message has been hammered home with each strike of the needle.
Her demeanor hardens momentarily as she shakes conditioner from a VO5 bottle into her hands.  Rubbing it into her wet hair she tells us, "That fucking library security guard just kicked me out of there.  She called me a filthy fucking homeless bitch!  She's lucky I didn't fuck her up.  I told her, 'There's fucking junkies shooting dope in this library and you're gonna kick me out for wetting my hair in the sink?!'  Fuck her.  I gotta get outta here."  She breathes, calmer for having unburdened herself, letting go of her anger.
"Robbie, I'm gonna check into Denver Cares on New Years."  Hope fills her eyes, and we are hopeful for her.  New Year, new life, new habits.  In that moment time slows, the sound and pace of the city quiets.  In her hope she is understood.  The pain that life has dealt her, that she has held in the story of her flesh, is washed away in the glory of the hope blossoming on her face.
"Ruthie is going to meet me down here on the corner at 12:30 on New Years Day and take me to check in at Denver Cares.  I don't want this anymore.  These people down here don't care about me.  My fucking boyfriend treats me like shit.  I'm almost forty, I've been on this heroin for twenty five years.  I went up there to Harm Reduction, and when I went to get new gear she asked me of I was okay.  I told her I was but she knew better.  She said, 'You look tired.'  I am tired.  I'm tired of this life.  She told me she would take me right then, and I was about to go, but I thought I'd better think about it, make a plan.  But I'm gonna go.  12:30 on New Years Day."
Robbie reassures her that she can do it, that she is worth it.  I listen to her quietly, people and places flitting through my mind, and silently pray that she will believe in herself to the degree Robbie believes in her.
Tears are welling in her eyes, and they are welling in mine.  She is no longer bound by the statements under her skin.
She may have lived fast, but she has not died young.  A life she has never believed possible lies on the other side of this year.  Here we are, present to one another, mutually bound by our humanity, each bearing the image of our Creator, experiencing Advent together.  We are full of hope, anticipating the peace and joy that this life offers, lovingly longing for the return of the One who restores us to it.
Come, Lord Jesus!